Artisan Fermenters and Distillers Business Conference and Tradeshow
Tuesday, November 15, 2022
2022 Conference Presentations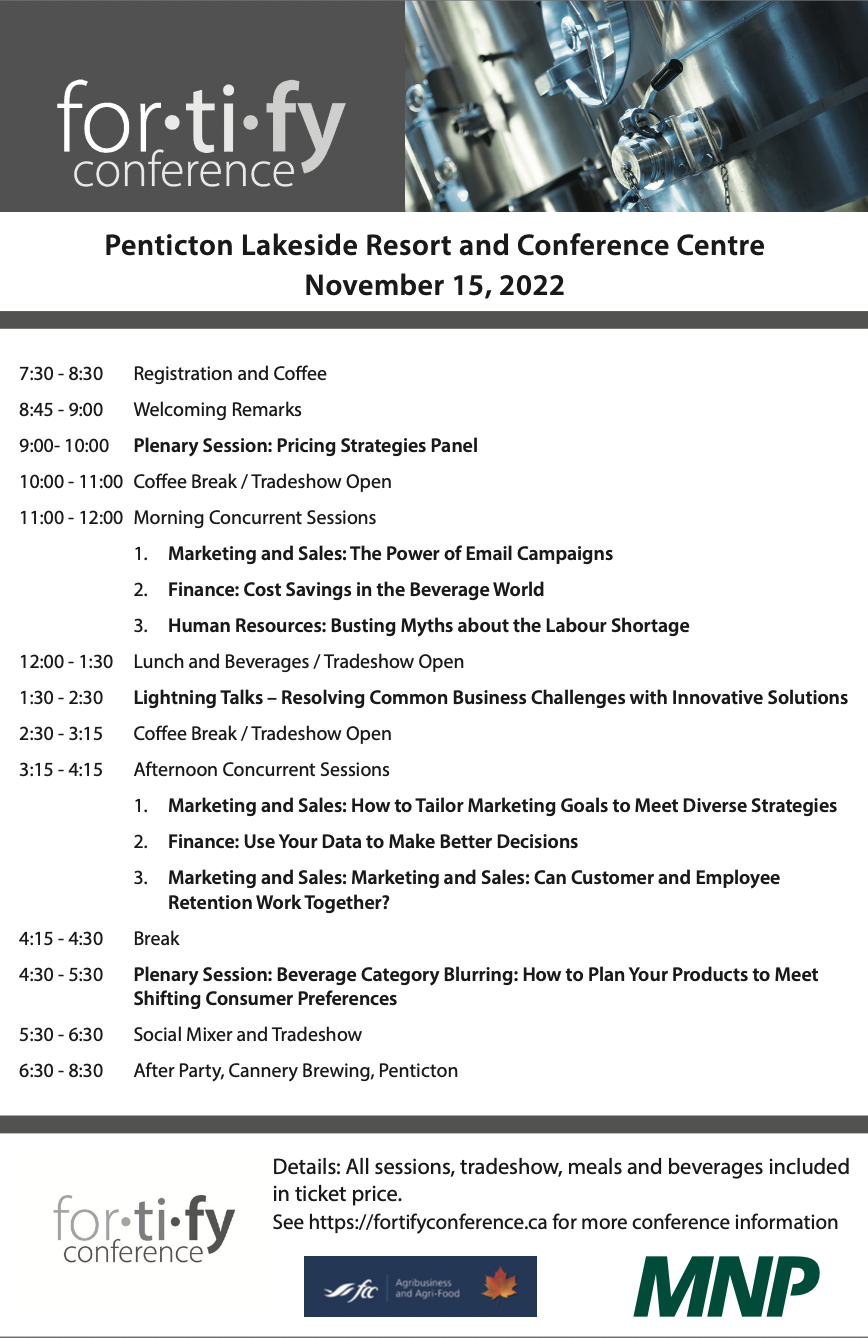 Plenary Session: Pricing Strategies Panel- Moving away from the Dart Board
Is there a better way to choose the right price? How do others evaluate their competitive landscape, costs and margins and whether and how much to discount?  Hear from your peers on how they determine the right price at the right time for the right products. 
Speakers:
1. Michael Coghill, Yellow Dog Brewery and Neighborhood Brewery
2. Miranda Halladay, Elephant Island Winery and Cidery, Naramata
3. Paul Sawler, Dirty Laundry Winery, Summerland
4. Lindsay Kaisaris, Whistler Tree Wine, Beer, Spirits
Marketing and Sales: The Power of Email Marketing: 
Danielle Barker, GetOn Marketing, Kelowna
How to make email marketing your most cost-effective and top marketing initiative. We will dive into the rules you need to know for Canada Anti-Spam and increasing privacy laws.
Finance: Cost Savings in the Beverage World
Jory Soubiran and Geoff McIntyre, MNP
As a business owner and beverage producer, you had a lot to manage even before the pandemic brought its own set of challenges. Cash flow, growth plans, labour challenges, supply chain management and fast-changing customer preferences are enough to keep many up at night. In today's business climate, it's more important than ever for business owners to have a full understanding of their operations, but where do you start? Implementing the right solutions and engaging with advisors can help you get ahead and stay ahead throughout your business journey.

During our session, we will outline how you can overcome key business challenges to improve profitability and enterprise value.  We will explore pricing and market strategies, operational efficiency and quality, and how to use economies-of-scale to ultimately increase the value of your business.
Are Your Customer Retention Programs the Answer to Employee Recruitment and Retention? 
Heather Stewart, Sage Transitions
Artisan fermenters and distillers have developed excellent customer service retention programs. You understand how to engage your customers, how to communicate with and retain them. Do you devote the same time, thought and energy to ensuring that your employees feel like they are valued, and they are important to the success of the business? We'll discuss how to translate your expertise in customer attraction and retention programs to building a program that respects and retains your employees.
Lightning Talks
Fast-paced talks packed with information.
Marketing and Sales: How to Tailor Marketing Goals to Meet Diverse Strategies
Danielle Barker, GetOn Marketing, Kelowna
How to plan and reach your seasonal marketing goals with consistent and effective outreach to your local community and customer base. By combining web, content and SEO with engaging social media, effective email marketing and community partnerships, you can reach both your ideal customers and sales goals throughout the year.
Decision-Making in Uncertain Times
Danny Turner, Partner – Kootenay Peaks Advisors; Owner – Just A Mere Organic Farm
Sometimes intuition and guesswork just doesn't make the grade in times that are fast changing and beyond our control. Using your own financial data to help make decisions is achievable. When should you pursue that new market or hire that new employee? Is it time to look for an investor or make that big capital purchase? Data-driven decision-making is a foundational part of running your business successfully.
Busting Myths About the Labour Shortage 
Heather Stewart, Sage Transitions
Patt Dyck, Owner, Cannery Brewing Company
Is there a labour shortage in your industry? What myths and assumptions may be stopping you from finding and hiring employees? Hear from a food service company and a related industry association that has busted some of the labour shortage myths. Discuss how they've changed their business models, and found and hired great employees who are dedicated to and integral in the success of their business.
Beverage Category Blurring: How to Plan Your Products to Meet Shifting Consumer Preferences (Plenary Session)
Moderator: Karen Graham, Wine Drops
The post-pandemic marketplace is characterized by shifting consumer sales. As a B.C. craft producer, should I make cider and wine? And/or a grain-or-fruit RTD? Infused with something local or exotic? Should I introduce a low-alcohol line, and what packaging should I consider? Or do I stay the course with my core products and brand?